MotoGP™ Legend Randy Mamola is back to run you through some of the things to keep an eye on at MotorLand Aragon
Ahead of qualifying and race day at the Gran Premio Michelin® de Aragon, MotoGP™ Legend Randy Mamola is on hand to share some of the things you might want to look out for this weekend. It's a pivotal couple of weekends that are coming up in Aragon, and two that could heavily shape where the 2020 MotoGP™ crown is heading.
1. A SEASON LIKE NO OTHER
This season completely different to any other championship that we have seen. We have four triple headers, we are now in the middle of the third, and we will go to one more. That is a tremendous amount of stress on everyone, the teams, the riders and the Championship. If you look through the races we've already seen a number of riders falling and crashing out due to the closeness of the machines, the closeness of how the races have turned out and that qualifying and everything is so important. There is not one aspect you want to leave out if you want to win this championship or any races.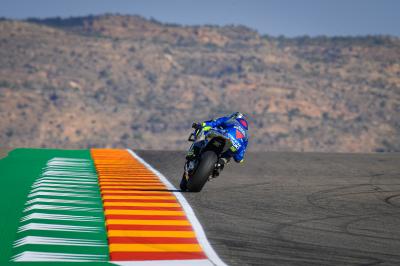 So Alex Marquez, what a ride in Le Mans for this kid. This reigning World Champion from Moto2. Coming from 18th position, as I stated about the weather, when you're sitting on the grid and it starts to rain, I can tell you, most of the riders, their hearts sunk down into their bellies. It is not a fun situation to be in. I have been in that situation many times through my career, but the most important thing is to switch your mind and to think about being steady, smooth and fast, and that's what Marquez did.
Coming from 18th to 2nd, he had nothing to lose, and he didn't ride like he and nothing to lose. He just rode fast and smooth and put it all together, and he passed so many talented riders and champions that have much more experience, especially in those conditions. Let me tell you something, after finishing 2nd, he is going to be ready for Aragon, he is going to be so excited going into it with that confidence level. But he will also know it is completely different in a dry situation, a different track situation.
What I really want to state is that the level of MotoGP this year, that we have seen in 2020, with the seven different race winners out of nine GPs is something fantastic to see. Amongst the podium finishers itself, it is just an exceptional season and I can't wait to see what happens in Aragon. The Hondas go well there, so we know Crutchlow and Nakagami can do quite well. Marc Marquez won it last year and Cal was sixth place and I'm looking forward to seeing how the Hondas go.
3. WEATHER CHANGING THE DYNAMICS
The reason why I stated that I sound like a weatherman, and it might sound like that to you guys, but it is true. What we saw in Le Mans, the preview going into the race, then it started to rain, we saw the dynamics completely change, riders became tenser, others rode with more freedom and being able to go and push themselves a little bit harder. We don't know what to expect yet for Aragon, but in principle it can be single digit numbers for the ambience especially in the mornings. Things can cool off very quick. Aragon is a fast, flowing and fun racetrack to go around and I just hope that the temperatures catch out fewer riders than Le Mans.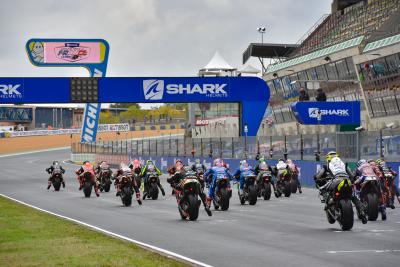 Last week we saw an unfortunate situation with a mechanical failure, his bike breaking while he was battling for not only a podium finish, but also the victory in Le Mans. It would have been exciting to see for sure because no matter where Jack is, it's exciting. Going into Aragon, if you're a Miller fan or Ducati fan, I can tell you last year he was P3 behind Dovizioso on the Ducati. We know that Ducati go fast there and we know that Jack is fast there. We also know Jack is fast in all conditions, and we're really looking forward to seeing what he can do in Aragon in these back-to-back races.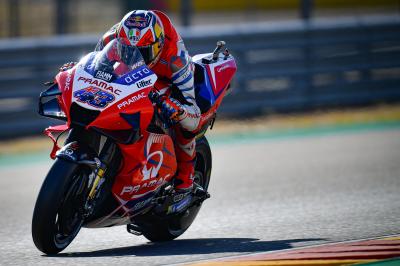 He also looks like he's riding with a lot more freedom. What I mean by that is he's enjoying it a lot more. Mainly I believe that's due to the fact he's got a factory bike with Ducati next year, the official bike, and that just makes things that much easier – knowing your future is set. That's what's cool about watching Jack because when he's riding with a free mind, he's exciting to watch.
5. FOUR RIDERS, FIVE RACES, 19 POINTS IN IT – GAME ON!
After Le Mans we have four riders in 19 points. Quartararo is first, Mir second, Dovi third and Viñales fourth. With Quartararo, he needs to get back up onto that podium if he wants to maintain this lead in the Championship. Mir is still looking for his first MotoGP win and I'm sure that's just in front of him, we will enjoy seeing that. Dovizioso made the biggest inroads into the leaders, he's taken back 10 points after Le Mans but he needs to turn up to Aragon 1 and 2 with a positive mindset. Not worry too much about what the tyre feels like too much going into this race, that we've heard him say before. He's got to go out and fight for the victory there as he finished second last year.
Maverick Viñales is 19 points behind and who would have thought he'd have been that close when we've seen so many dramatic things happen to him? But that the shape of what 2020 has been about: the dramatics of how the Championship has worked out. I believe these four riders have a real shot at the Championship in the next six weeks, we've got five races and they're going to come thick and fast. For MotoGP fans, it's going to be pure excitement. Throw these four guys in with the rest of the group that have been out there, the rest of the podium finishers that have been out there, and it can really mess things up. And/or gives these guys a chance at winning the title – excitement is right around the corner!
I want to give a big shoutout to the fans who leave the comments, I like chatting with you guys back and forth. It's been really fun and exciting for me, we've got five more races to do this at and I'm really looking forward to it. I just want to say thanks and enjoy the races – 2020 is wide open.
Every practice session, qualifying battle and race, exclusive interviews, historic races and so much more fantastic content: this is
VideoPass
!
Source link