What is it?
The Volkswagen Vento needs no introduction, after all, this Honda City-rival has been on sale in India for nearly a decade now. With periodic updates, strengths like its solid build and driving manners, Volkswagen has managed to keep its sales afloat despite the competition, which have gone through generation updates over the years.In its latest, 2020 iteration, the talking point is its all-new 1.0-litre turbo-petrol engine that it shares with the Volkswagen Polo and Skoda Rapid. This motor replaces all the engines from its range – 1.6-litre naturally aspirated petrol, 1.2-litre turbo-petrol and the 1.5-litre diesel;and for the moment, this sole engine offering will be available with only a 6-speed manual transmission, and although the automatic (6-speed torque converter) has been announced, its production hasn't commenced just yet.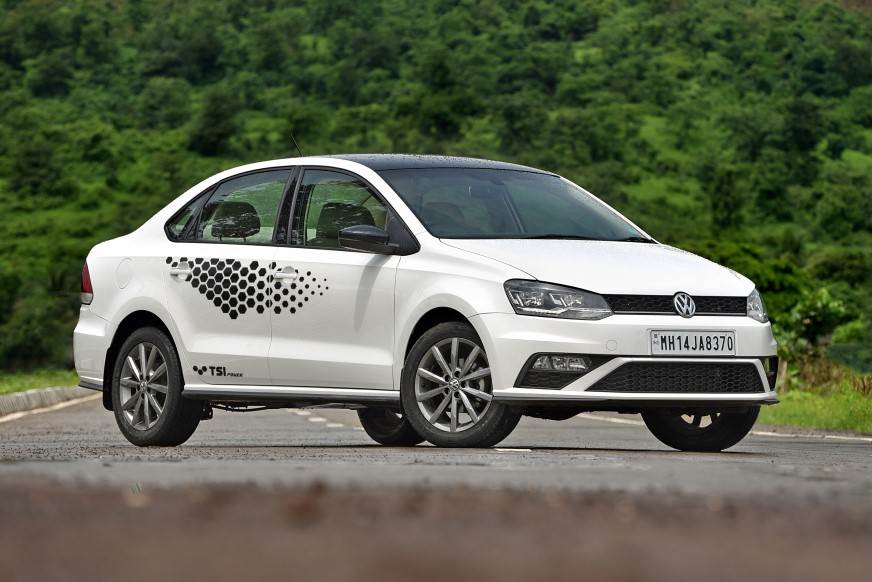 Raised ride height masked by the body skirting to an extent.
The understated elegance of the Vento's clean design has made it age rather gracefully over the years. This 2020 version wears the same styling as the 2019 facelift, soit gets a Polo GTI-inspired front bumper, LED headlamps with daytime running lamps (DRLs) and 16-inch multi-spoke alloys. Our test car is a TSI (limited) Edition, so it sports a black roof, boot spoiler, black mirrors and side body decals. The latter might not catch everyone's fancy, and the good news is that these can be peeled off easily for a cleaner look. Interestingly, this car appears much higher above the ground than the pre-2019 facelift, and even its body skirting isn't quiteable to mask its raised stance; Volkswagen, however, hasn't officially announced any change to its ground clearance.
What is it like inside?
Just like the exteriors, even the interiors are identical to the 2019 facelift, so it still retains the solid build, the high-quality plastics and the comfy seats. Some might prefer its minimalistic design and layout, but look at it in the broader light amidst the competition, and these interiors appear just too dated. Even the touchscreen looks small compared to modern screen standards. What's nice, however, is the inclusion of Apple CarPlay and Android Auto, and even though it is rather basic in its operation, it does a better job than the Skoda Rapid's app-heavy Android-based infotainment system.
High quality, well-built interiors, have now begun showing their age.
Giving away the Vento's age is the absence of USB ports, which weren't something to have when this car, based on the old PQ25 platform, was conceived over a decade ago. The USB slot is instead part of the infotainment system below the screen and requires a long cable to connect your smartphone to the system and the way it dangles doesn't look neat in this day and age. This placement is still better than the Rapid's USB slot, which is in the glovebox. Another irritant is the lack of space to stow your phone securely in front of the gear lever; the present location isn't wide enough to hold a medium-sized phone.
Overall seat comfort in the front and rear is good, and this is a comfortable four-seater sedan. A middle passenger at the rear will feel unwelcome due to the narrow seat width and large floor hump, the latter however provides torsional rigidity to the structure.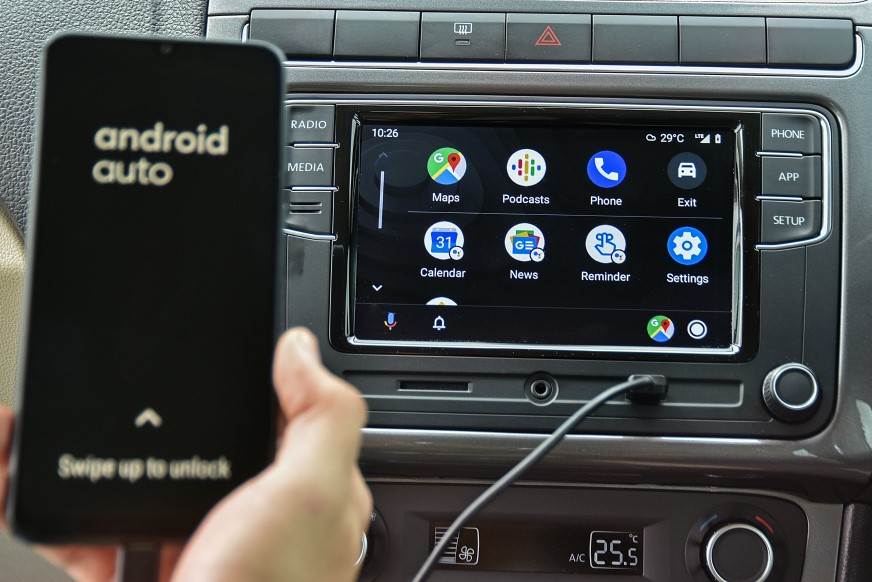 Basic system with smartphone connectivity.
Interestingly, this TSI Edition is based on the top-spec Highline Plus variant, so it gets all the features of a fully loaded Vento like LED headlamps, rain-sensing wipers, cruise control, touchscreen with Android Auto and Apple CarPlay, four airbags, reversing camera, as well as the cosmetic enhancements listed above. Also, it is a whopping Rs 1 lakh cheaper than the Highline Plus variant, making this limited-edition variant good value for money. Features like ESP, sunroof, cooled seats, auto headlamps, wireless charging, tyre pressure monitor and curtain airbags are still missing from the Vento's list.
What is it like to drive?
This 999cc, three-cylinder turbo-petrol unit produces 110hp and 175Nm of torque, which is 5hp more than the old 1.2-litre four-cylinder turbo-petrol motor that it replaces. Compared to the international 115hp/200Nm state of tune, this version gets a wider spread of max torque, from 1,750-4,000rpm (vs 2,000-3,500rpm in the international spec).This TSI motor gets direct injection, which means that a precise amount of fuel is sprayed directly into the cylinder at extremely high pressures (up to 350bar), resulting in better/more efficient combustion, which translates into better performance compared to a port (indirect) injection unit.
This tiny little motor takes some time to get moving when off-boost,so you will have to work the gears to get the most out of this 1.0-litre engine.But get past 2,000rpm and this TSI motor comes into its own with its power delivery,which flows in so smoothly and its spread of torque is so wide, that it actually surprises you with its strong performance and effortless nature. It spins nice and freely throughout the rev range and maxes out at 6,500rpm in the first three gears.
3-cyl motor is quiet, vibe-free on the move.
In a 30-60kph sprint in third gear and 50-80kph in fourth gear simulating a quick overtake, the Vento TSI takes 5.98sec and 6.87sec, respectively, which is a bit slower than the Skoda Rapid TSI (5.35sec and 6.60sec), but much quicker than the new Honda City (6.43sec and 8.80sec). Even outright acceleration is strong, with a 0-100kph and 0-160kph time of 10.42sec and 30.21sec, respectively, which is a bit slower than the Skoda Rapid TSI (10.09sec and 28.88sec), but at par with the new Honda City (10.2sec and 30.41sec).
2020 Volkswagen Vento 1.0 TSI acceleration figures (as tested)
0-20kph
1.31s
0-40kph
2.52s
0-60kph
4.49s
0-80kph
6.87s
0-100kph
10.42s
0-120kph
14.70s
0-140kph
20.66s
0-160kph
30.21s
20-80kph (in 3rd gear)
12.79s
40-80kph (in 4th gear)
14.61s
This three-cylinder unit does flutter at idle, transmitting mild vibrations into the cabin, but it smoothens out on the move. What's nice is that the typical thrum from the motor is well controlled and even though it gets a bit vocal at higher revs, it never sounds coarse or strained.
The new 6-speed manual transmission, with short throws and well-defined gates, is a delight to use and it feels a touch nicer and smoother than the Skoda Rapid TSI's unit.
New 6-speed is smooth and nice to use.
Not much has changed in terms of driving dynamics, its taut chassis makes it a very balanced handler. Even its steering feels precise and due to its weighty nature, and inspires confidence while attacking corners. The Vento feels rock stable on the highway, and what's really impressive is its ability to mask speed like a much larger car. What's also nice is that it absorbs road shocks at low speeds very competently. This Volkswagen then strikes a good balance between ride comfort and enjoyable driving manners.
Should I buy one?
The Volkswagen Vento has been around for a decade now and has begun showing its age in certain areas, especially its interiors. It misses several features like ESP, curtain airbags, sunroof and even something as basic as a push-button start. The TSI Edition (limited), at Rs 10.99 lakh, is Rs 1 lakh cheaper than a similarly spec'd Highline Plus variant, so while it is the pick of the range, it still isn't as attractively packaged as the Skoda Rapid Rider (bookings for which have temporarily stopped), which grabbed the limelight for its killer starting price tag.
Decals, black roof with this limited edition.
The Vento TSI isn't as modern as its competitors nor is it as well-equipped or as spacious – it has arrived at a time when the goal posts have moved forward in the midsize segment, which is heating up once again. So why would you buy a Vento then? For its unique 'Volkswagen-ness', which is rooted in the solid build and the sense of stability and security you get at any speed. Then there's the very likeable TSI engine that impresses with its smooth, enjoyable performance, and complements its mature drive mannersreally well. Just like the Skoda Rapid, the Vento's appeal lies in its old-school character, and it remains one of the nicer cars to drive in its segment. 
Also see:
2020 Skoda Rapid 1.0 TSI review, test drive
2020 Honda City review, test drive
2020 Hyundai Verna review, test drive
Source link