Winter is slowly setting in across northern India. A cool breeze skims across the desert floor and there's a hint of mist in the air. With the skies above clearing and dawn slowly creeping in, it looks like it's going to be a cold, crisp morning. Also bringing considerable cheer is knowing that there currently are no cars out and about in this sleepy corner of Rajasthan. And then there's the fact that the roads here are a fine mix of long straights and tight corners; the latter winding themselves around some of the hillocks that dot the landscape.
Load it Up
With the sun not up yet, this is probably the ideal time for a bit of an exploratory drive. Now hatchbacks are considered (by many) to be old hat. Basic cars you graduate up from, or mere stepping stones on your automotive journey; they aren't exactly aspirational. No one, however, told Hyundai. Climbing in behind the wheel here is downright disorienting. Almost as well equipped as something like a Venue, Verna, or even a Creta, the new i20 is just loaded to the gills. I'm surrounded by screens as I settle in, and then everywhere I look there are features you'd normally never expect to see on a hatchback.
The steering wheel, for example, is so well put together, it wouldn't look out of place on a luxury car. The leather rim is thick and feels just right in my hands, the contrast double stitching increases perceived quality, and even the 'metallic' bits and buttons fit perfectly.
Then there are the twin screens; the bright and sharp 10.25-inch touchscreen is the same as that on the Creta, and for that matter, the Kia Seltos. The functionality is slick, contrast is great, you never have to tap it twice, and it even executes commands in a snap, making for a great user experience.
Sitting on the right, the instrument panel isn't really a screen in the traditional sense. Unlike the one you'll find in the i20 sold in other markets like Germany, which use a high-res full-colour screen that can display just about anything, this one is more a backlit display. Reading these virtual 'dials' isn't easy either. Still, the digital readouts make it reasonably functional and the multi-info-display at the centre blends nicely into the design.
It isn't just the screens that grab my attention. This car even gets features like wireless phone charging, a seven-speaker Bose sound system with a subwoofer and amplifier, and Hyundai's Bluelink connectivity app, the latter even allowing remote air-con start. So the i20 can pamper you just as much as any sedan or compact SUV, and at a much lower price point.
The cabin even feels wider and airier up front than the earlier i20. Apart from many of these segment-first or segment-best features, the i20 also gets a sunroof, ambient lighting, an air purifier and a rear-view camera that you can use to supplement the mirrors.
Light And Easy
Now it's time to drive, so I fire up the engine and head out. First impressions, almost immediately, are of a car that rides a bit better than its predecessor. There's a suppleness here that was lacking in the earlier car. The new i20 glides over many rough patches effortlessly, there isn't too much movement from the body, and then, when I drive over a patch of broken village road, the new i20 just takes it in its stride. Yes, there is a layer of stiffness, and you can feel it occasionally, but the i20 blends taut body control and suppleness over bumps really well. In fact, the new i20 rides more comfortably than Hyundai's own compact SUV, the Venue.
Also marginally improved over the earlier version is isolation from the outside. The cabin feels more silent at speed, you hear fewer thuds over bad patches and, as the roads open up, I find that straight-line stability is impressive too.
The new i20 also feels lighter on its feet from behind the wheel. Clearly more comfortable in corners, with a steering that is easily the best on an i20 yet, it displays commendable agility and plenty of confidence. The steering is particularly good. It feels oily smooth, it is direct and slack free, and in corners, there's a bit of weight too. The i20's turn-in could have been sharper and there is some body roll, but the stiffer and lighter chassis makes it feel more agile, and there's a fair amount of grip from the 195/55 R16 tyres too.
The new i20 also has a bit more performance on tap. The 83hp 1.2 petrol I'm driving will be Hyundai's bread and butter car, and here, with less weight to push around (see box), it feels a bit quicker. While the conditions weren't ideal, our VBox recorded a 0-100kph time of 14.02sec, making it a fair amount quicker than the outgoing car. While a lot of this has to do with the fact that it is lighter, the engine also pulls quite nicely from 4,000 to 6,000rpm, with a clear step up discernible around 4,500rpm. And then what helps you enjoy the performance is that the clutch is nice and light and the gearbox has well-defined gates and springs to the next gear with great enthusiasm.
Hyundai's 83hp 1.2, however, doesn't pull well from low speeds. This is partly down to the fact that peak torque only comes in at around 4,000rpm and that's probably why you have to wait an age for the engine to start pulling strongly. So it's often best to shift down to a lower gear, which you do need to do quite often when you drive in stop-start traffic. Hyundai is aware of this relative torque deficit at lower engine speeds and the CVT-equipped version of the new i20 gets a more powerful 88hp version of this engine that also gets a variable intake system for improved low-end performance. Hyundai really should have upgraded this manual too.
Sharper, Bigger, Better
Back at base camp, after a bit of an extended drive, I take a closer look at the design. With its tipped-forward stance, frameless grille placed low and proliferation of cuts and creases on the chin, the new i20 has loads of visually interesting bits. But while the unconventional C-pillar gets your attention, and the kick up in the shoulder line is interesting in its own right, the detail that's likely to define this car are the 'Z' shaped LED tail-lights.
On the inside, I pay more attention to the funky-looking dash, which has a distinctive design too. With its abundance of horizontal slats that merge with those on the vents and door pads, the new i20's interior looks attractive. The 'floating' centre console, with its pod-like cluster of buttons, is neatly executed, but because the cabin is all black, the plastics look hard and a bit too shiny. Some soft-touch plastics would have been nice, and so too would a beige, two-tone interior colour scheme.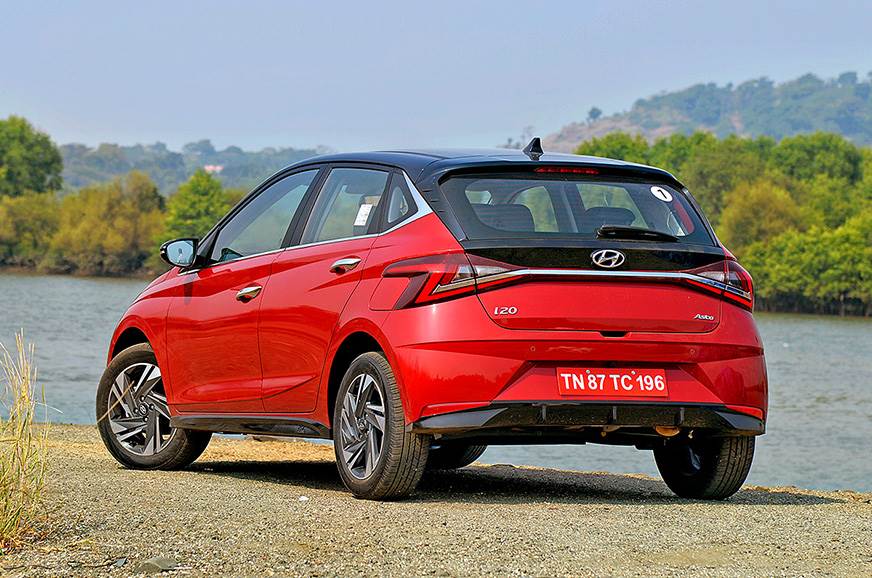 The i20, however, is spacious and feels as substantial as a mid-size sedan up front. This is because the cabin is wider than the outgoing car's. The driver's seat adjusts over a wide range, so you can sit high if you want to, and side bolstering on the large, wide leatherette seats is also reasonably good.
There are also plenty of spaces to store your odds and ends. There's a fairly large cooled glovebox, the door bins up front run the full length of the door, there's a cubbyhole under the centre console (where the cooled wireless charging pad sits), and there's even a pair of cupholders between the seats. Only the space in the tiny elbow box is disappointing.
With the longest wheelbase in the class, legroom at the rear is class leading. Hyundai also claims 40mm more shoulder room for occupants, meaning three-abreast seating at the rear is marginally better, and with the scooped-out roof at the back, headroom is pretty generous too. The rear bench is placed a bit low, but the seat supports your thighs nicely and the backrest is reclined at the ideal angle. You get an elbow rest, there's a USB socket below the rear vent, and it even has a small shelf if you want to place some of your personal belongings.
When it comes to safety kit, the new i20 gets six airbags, electronic stability control (ESC), a tyre-pressure monitoring system (another segment first), and hill assist control to help on slopes.
The 311-litre boot is a bit small for this class, but those interested in carrying a bit more luggage can fold and flip the rear backrest down. The seats, however, don't split.
An Eye For An I
Radical looking, full of refreshing details and distinct from anything else in its class, the new i20 takes the once-humble hatchback a big step forward. Larger and more spacious on the inside, nicer to drive and ride in, and equipped as lavishly as cars twice its price, it sets a new benchmark.
It may not be the sharpest tool in the box when it comes to driving pleasure, there are better engines in the range than this 83hp, 1.2 petrol (think 120hp turbo-petrol or 100hp diesel), and, at an introductory price of Rs 6.80-11.18 lakh (ex-showroom, India), it's quite pricey as well. Still, if you are willing to fork out extra and reach up for one of the more expensive engines, this has a good chance of being the best hatchback in its class.
Source link